» About Us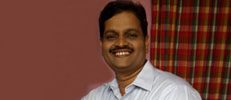 Arun Solat
BS (O&P) C.PED. (USA)
ORTHOTIST PROSTHETIST & PEDORTHIST
read more

OAALMAC (Orthopaedic Appliances Artificial Limbs and Mobility Aids Centre) was established in February 1996 by Shri Arun Solat, Orthotist, Prosthetist and Pedorthist. Shri Arun Solat is a Bachelor of Orthotics and Prosthetics from Mumbai University's first batch of 1990. He gained quite a considerable experience in India and abroad in practice as well as research.
read more
An orthosis repairs, supports or immobilizes a body part to heal, improve function, correct deformity or manage pain.
A prosthesis is a device that replaces or extends a limb, extremity, or other body part.